The YUR.watch lets users bring smartwatch functionality into VR
Not happy with your real-world smartwatch? How about a virtual reality (VR) one? YUR.watch is a fitness tracking tool that records your progress in several VR games.
Essential reading: Top fitness trackers and health gadgets
The timepiece is available to all PC VR headsets as well as Oculus Quest. The early access build works with some of the most popular titles such as Sairento, RacketNX, OhShape, Synth Riders (Quest). YUR will allow you to track fitness metrics without any wearable heart rate monitors from a virtual interface. To enable users need to go into the game's settings and toggle on YUR.
"The YUR.watch is similar to a real-world watch in that it has a band, tells the time, runs applications that track your fitness, and has a watch face," YUR Co-Founder and CPO Dilan Shah said.

"It differs in that it is obviously not physical and can support many different configurations and skins."
The watch sits on your VR wrist from where it offers instant access to your workout progress. Stats such as a calorie counter, estimated heart rate (calculated based on your height and weight using machine learning), current activity level and squats achieved during the game can be seen. Those with an external Bluetooth Heart Rate monitors can even link it up for more precise data.
The functionality allows users to progress through a levelling system and unlock new tiers of watches. YUR says there are a total of 60 levels in which to advance. Other features include a dashboard with fitness tracking and historical achievements, leaderboard and customised controls.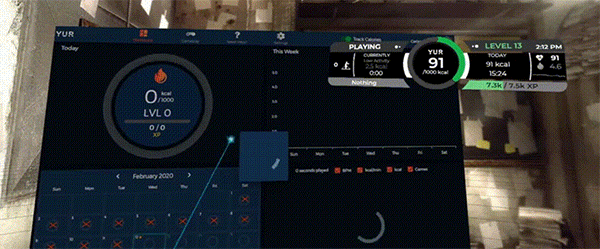 This is definitely an interesting addition for any VR games. If you're looking for something to push you to the next level of VR, YUR.watch might be just the thing. It is also something for those looking for ways to stay active while at home during the quarantine.
"Over the course of the last quarter we've seen an incredible shift in the world due to COVID-19, people are looking for new avenues to stay active while at-home," Shah added.

"Now, over 5.1+ million workouts have been logged by over 60,000 users; and with so much time spent at home now is the time to join them."
The YUR.watch companion app can be downloaded for free on iOS and Android. This also features an Apple Health integration for syncing your VR workout data.
Like this article? Subscribe to our monthly newsletter and never miss out!