Reviving the past: watchOS 10 to bring back widgets
Apple Watch owners can expect a significant user interface (UI) revamp in the upcoming watchOS 10 update. Although we previously reported on the possibility of this, new information has emerged that paints a clearer picture of the changes we can expect. The company appears to be taking a step back in order to propel its smartwatch user experience forward.
This is according to Mark Gurman's PowerOn newsletter. He states that the watchOS 10 UI changes will primarily focus on widgets. These features provide users with information snippets without requiring them to open individual Apple Watch apps.
---
Reviving the past: watchOS 10 widgets
Those who have been using the Apple Watch since its inception may recall that glances were an integral part of the original watchOS before being phased out with watchOS 3. Following that, Apple shifted its focus to apps and Complications.
According to Gurman, these updated glances will be available as overlays on any watch face. Their design will, apparently, be inspired by the Siri watch face introduced in watchOS 4. They will also incorporate design elements from iOS 14 widget stacks. To remind, this is a feature in iOS and iPadOS that lets users pile many widgets into one and scroll through them.
Here's one concept of what this could look like – published by Macrumours.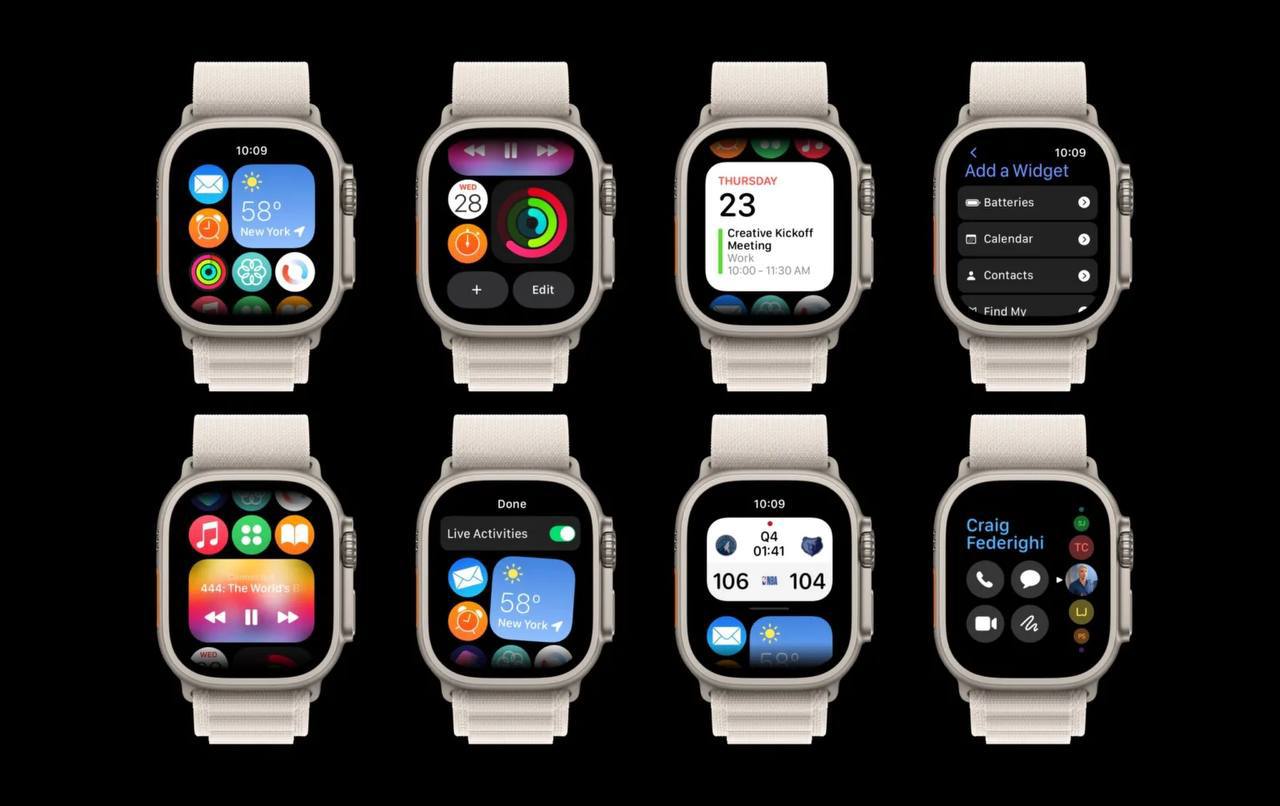 This rumoured change may reduce the emphasis on apps within the watchOS experience. As a result, Apple may give users the option to remap the crown to display widgets instead. A press of the crown currently navigates to the home screen.
The idea is to enable users to quickly access essential information with having to launch multiple apps or navigate through cluttered menus. This simplified approach may result in greater efficiency and productivity for Apple Watch users. Such a change would represent a significant shift in how the company envisions people using its smartwatch. It should make the device even more appealing to potential customers.
The plan is to let users scroll through a series of different widgets — for activity tracking, weather, stock tickers, calendar appointments and more — rather than having them launch apps.
---
Transforming the way users interact with their devices
While these rumours paint an intriguing picture of what watchOS 10 might bring, it is important to remember that none of these details have been officially confirmed by Apple. As with any rumour, it's best to treat these claims with caution until the company provides concrete information. However, if they turn out to be true, the watchOS 10 update could be a watershed moment in Apple Watch history.
Essential reading: Top fitness trackers and health gadgets
As we wait for Apple's official announcement, the buzz surrounding the watchOS 10 update grows. The company is set to introduce the next version of its operating system during the keynote event on June 5 at the Worldwide Developers Conference. Developers will receive access to watchOS 10 later that day, with public beta testers gaining access at some point in the summer.
Like this article? Subscribe to our monthly newsletter and never miss out!